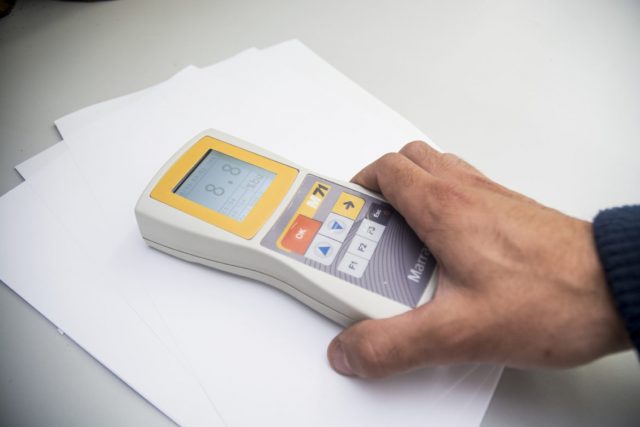 multi-use moisture meter for flat organic materials with custom calibration for each material
What is the M71 multi-purpose humidity meter?
The M71 multi-purpose moisture meter is an almost generic meter, due to its ability to create recipes, it is possible to generate precise measurements of various flat organic materials!
But why is the ability to create recipes a differential?
Simple, creating a recipe derived from various measurements (measuring points) it is possible to create a specific calibration curve for the product to be measured.
This means that the more measurements you make with the M71 multi-purpose moisture meter, the more accurate it will stay for certain product!
How do you create these calibration recipes and curves?
By our software Umidata. Each time you make a measurement, it is saved to the device. After that, you can download this data to a PC where our software will collect the data and you can create your curve for a particular recipe (product).
What else does this umidata offers?
It is a powerful tool for storing data collected by the meter and downloaded via USB to a PC, where you can also check and create calibration curves for your recipes.
This data can then be demonstrated in various types of charts, historical and exported in Excel or other types of files.
If I want to come with the meter with a prescription ready for my product?
Just send a sample of your product to us at Marrari. More specifically Umilab, where we will create a specific recipe for you according to the lab!
And we can also calibrate and re-calibrate your equipment!
Contact us to find out more!
And why use the Marrari equipment?
Because our equipment is optimized for your company! We create ways to improve the performance of production processes without excessive loss using methods such as OEE and Industry 4.0. Thus creating a more efficient, productive and modern production environment!
If you want to know more about us and our gauges, visit our Facebook or LinkedIn and subscribe to our newsletter in the footer of the page!
Want to know more technical information about the meter? Check below for more information! and ask for your budget!
M71 GENERAL FEATURES
Measuring range from 2 to 30% BU
Backlit LCD graphic display
esolution of 0.1%
Accuracy better than 5% of measured value
Sensor area: 130 x 75 mm
Record readings of 1000 readings and record up to 100 batches
Calibration of 20 programmable curves (10 are locked by deffault)
USB port
Rechargeable battery
Weight of 700g
Dimensions of the M71 are 150 x 250 x 120 mm