Here you can find the most requested spare parts for Marrari equipment.
---
Pins
Sensor Pins
They are pieces embedded in the wood, for measuring the humidity during the drying process. Available in 4 different sizes to suit different wood thicknesses.
Banana Pins
They are parts used in pairs to make the quick connection of the humidity points, facilitating and accelerating the loading and unloading of the dryers.
---
Cables
Cabo lides
Used together with sensor pins to read moisture during the drying process. It has great malleability and thermal resistance of 130C or 200C.
Cable sleeve
Multi-way cable with shielding mesh against noise and electromagnetic interference, used to connect temperature and humidity sensors.
Communication cable
Multi-way cable for connecting networks between controllers and computers.
---
PT 100
Pt100 sensors
They are the sensors used in the drying process and in the phytosanitary treatment of wood. They have cabling with varied lengths and can also be made to measure, according to the customer's needs.
Cloth TBU
They are used in wet bulb sensors to measure the relative humidity of the air inside greenhouses during the drying of wood.
---
Controllers and electronic boards
Controllers and Expansions
Controllers: our programmable controllers (PLC's) have a hardware and software platform for automation in several Marrari systems.
Electronic Plates: are the plates used in conjunction with the PLCs and that assume different functions, such as drive interfaces or sensor reading. To find out which model best suits your process, contact Marrari.
CP200
Developed by Marrari, this PLC was created to control the equipment processes for sawmills and wood processing.
---
Sources, interfaces, cards and filters
12vdc, 24vdc or dual sources
The sources manufactured and supplied by Marrari have a protection circuit at the power input and offer different output options for the most varied processes and equipment.
IC 091 COM Communication Card
This electronic board is used to convert RS 232 and RS 485 signals, making it possible to connect the controllers in a network to a computer.
MR COM GP
They are electronic interface boards capable of activating electrical elements and receiving the signal from other electrical circuits, in addition to connecting the humidity and temperature points of the greenhouses.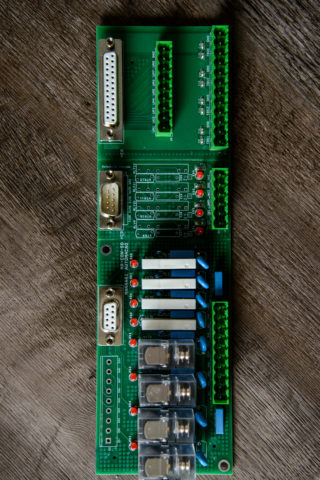 Communication filter FC 090
This circuit was created for the protection of the communication systems, especially the sources and controllers.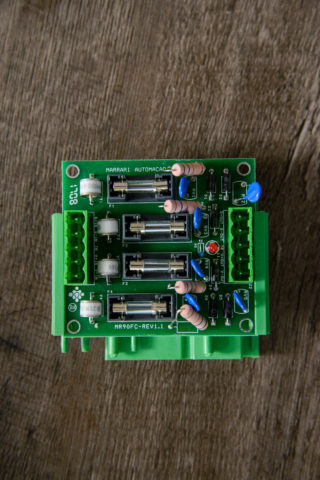 ---
E POR QUE UTILIZAR OS EQUIPAMENTOS e peças MARRARI?
Because our equipment and parts are optimized for your company. We create ways to improve the performance of production processes without excessive loss, using methods such as OEE and concepts of Industry 4.0, thus creating a more efficient, productive and modern production environment!
If you want to know more about us and our meters, visit our facebook or linkedin.